BETHESDA, Md. — The explosive ordnance disposal community has played a key role in operations in recent wars, and that role will only grow as the Pentagon shifts its focus to major combat operations against near-peer threats.
With that growing role, the equipment those EOD technicians carry with them will change, too.
At the National Defense Industrial Association's annual Global EOD Symposium recently, multiple speakers focused on how the community has spent the past two decades primarily working the improvised explosive device threat. But they cautioned that old and new threats will emerge in major combat.
Repeated throughout their comments was the admonition that the community must be "full EOD, not just IED."
To meet that mission, the Army is turning to technology to help fill the gaps.
The Army is developing technology that will help bomb technicians for the first time get a visual on buried threats such as landmines or IEDs.By: Todd South
Pat McGrath, chief of the materiel development branch for Army Training and Doctrine Command's EOD concerns, laid out some of the new items in the works.
Army EOD teams will soon have three aerial drones, soldier-borne sensors, tiny "nano" helicopter drones and tethered Unmanned Aerial Sensors at their disposal.
The enhanced render safe kit will also include binocular night vision devices, lightweight dismounted X-ray machines, lightweight electronic countermeasures, and lightweight mobile detectors for radiation and chemicals.
The Army needs 176 kits and expects to have initial operational capability by 2021, McGrath said.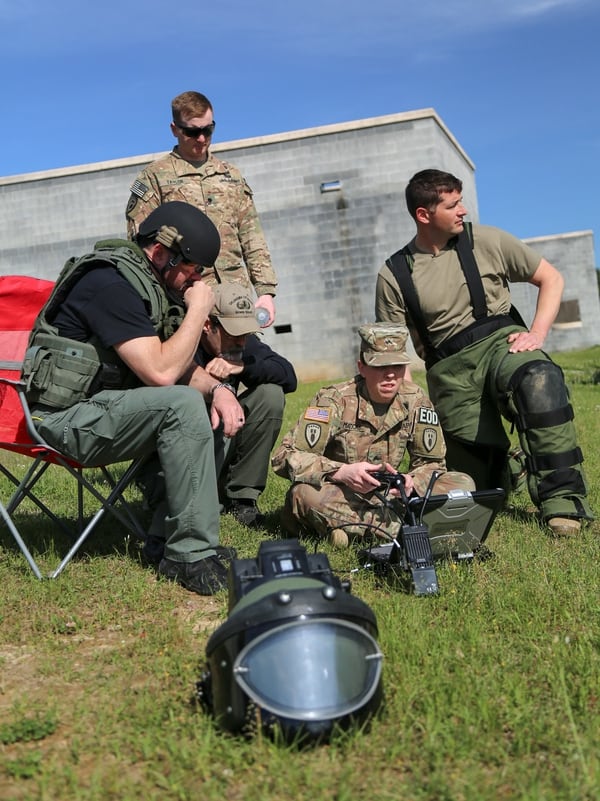 U.S. Soldiers assigned to the 663d Ordnance Company Explosive Ordnance Disposal (EOD), 242d Ordnance Battalion (EOD), and Officers of the Oklahoma Police Department view the operation of a TALON robot during Raven's Challenge 2018 at Camp Shelby.(Sgt. Ashley Hayes/Army)
Beyond the immediate kit, the Army is putting a lot of resources into EOD robots.
The Enhanced Robotic Payloads-Render Safe, are new robots that can defuse or destroy explosive items, and the Army needs a bunch of them, specifically 533, in the force over the next decade.
They expect the new robot to be able to fire either eight slugs or seven "water shots," pick up 90 pounds and carry the object for 100 meters, and be able to pick up 12 pounds in the fully extended arm position.
Officials want production to begin by 2024 and be fully operational and fielded within five years.
The payloads that the robot will use will offer the most drastic difference from what current tech offers.
They will combine tethered Unmanned Aerial Vehicles, use multispectral overlay cameras, be ready to provide "mesh networking" at extended ranges and do 3D mapping.
Army EOD soldiers will soon get a whole new kit — and new robots, accessed 22 August 2018, https://www.armytimes.com/news/your-army/2018/08/22/army-eod-soldiers-will-soon-get-a-whole-new-kit-and-new-robots/